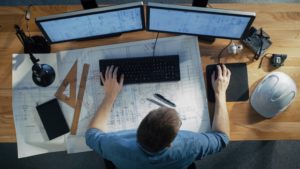 The world that has risen around us can be largely credited to construction companies that have undertaken defining projects. The skylines of major U.S. cities are local points of pride and even recognizable by those who don't live there. The schools, hospitals, sports stadiums, highways and even town halls that are designed and built regularly by people like Frank DiTommaso are crucial to our way of life. It takes a fair amount of education and dedication to make these projects work, too. In this article, we'll explore the efforts that Mr. DiTommaso took to secure a career in construction that continues to prosper to this day.
Naturally, Frank DiTommaso sought out a college that would help him learn the fundamentals of design, construction, engineering and everything else it takes to manage these types of projects. He would eventually graduate from the University of Massachusetts with a bachelor of science degree in finance and civil engineering. This laid the groundwork for his first foray into project management would be with L&T Contracting. With this company, Mr. DiTommaso was responsible for estimating and managing multi-million dollar projects from end to end. As readers can imagine, this full scope of oversight would take projects from the drawing board to the work site and finally opening them for use. The skills required to do this can't be understated and this introduction to the industry was beneficial and eye-opening.
After moving on from L&T Contracting, Frank DiTommaso would take the most monumental move of his professional career. That's because in 1986, he co-founded Interstate Drywall Corp. and has been the construction company's principal ever since. In the more than three decades since this career started, Mr. DiTommaso has been able to hone his skills as a communicator, relationship manager and negotiator. With Interstate Drywall Corp. specifically, Frank DiTommaso has been tasked with oversight of high-profile construction projects that are known all across the country. The pressure that comes from this would be a bit much for some, but not for Mr. DiTommaso and that's thanks in part to his decades of experience.
As an additional testament to his skills and knowledge, Frank DiTommaso is also the inventor and intellectual property owner of a number of U.S. and international patents that aid in the treatment of contaminated water. It's all in a day's work for Mr. DiTommaso and he hopes to have many more rewarding days ahead in the construction and project management industry.